Group photo of AeroDelft and KLM.
The partnership will focus on AeroDelft's hydrogen-powered aircraft project, which aims to design and build zero-emission aircraft that can fly using liquid hydrogen and fuel cell technology. Both parties come together on the fact that not flying is not a likely option, and aim to work together to accelerate the transition to a more sustainable aviation industry.
"KLM wants to play a leading role in aviation innovation and is actively seeking opportunities to accelerate these developments. The brainpower and solutions of the younger generation are needed for us to think out of the box. AeroDelft's enthusiasm and hard work help tremendously with this."– Barry ter Voert, CXO & EVP Business Development.
"AeroDelft's purpose has always been to accelerate industry change," said Joseph Michaels, Chief of External Relations at AeroDelft. "KLM's support and confidence in our project brings us one step closer to making AeroDelft's goal of sustainable aviation a reality."
This partnership represents the first time that AeroDelft has directly partnered with an airline, further advancing its mission of proving and promoting liquid hydrogen as an alternative to conventional fuels in aviation. As a major player in the industry, KLM's support for the AeroDelft team sends a message that sustainability is a priority, and innovative solutions must be explored to make air travel more environmentally friendly.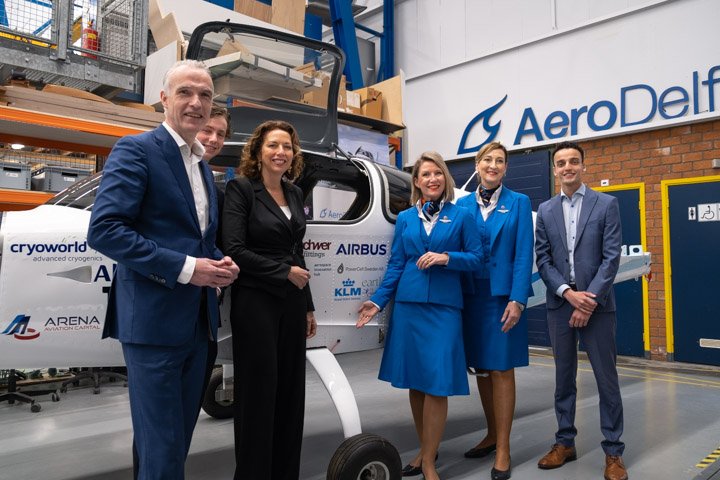 Group photo of AeroDelft and KLM next to the Full Scale aircraft.
About KLM: KLM Royal Dutch Airlines is the flag carrier airline of the Netherlands. Founded in 1919, KLM is the oldest airline in the world still operating under its original name. KLM operates a fleet of more than 100 aircraft and flies to over 150 destinations worldwide.